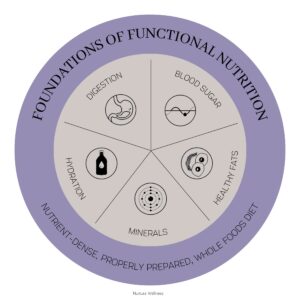 What is Functional Nutrition Counseling?
In a nutshell, functional nutrition counseling is a process of educating the counselee about how nutrition impacts the body in general and their body specifically.  This knowledge allows them to move forward in reducing dysfunction, identifying symptoms, and creating an environment which allows the body to heal itself.
Functional nutrition is a bio-individual holistic approach to wellness focusing on food as medicine for you as a whole being.  The practice of functional nutrition is similar to functional medicine – it is a person-centered rather than symptom-focused.  Your body is a whole ecosystem, fearfully and wonderfully made, both complex and unique, and my goal is always to address the root causes of dysfunction and enable your body to improve its own functions.
Together we will consider activity levels, environment, current food practices, and the presence of disease or dysfunction in order to develop a plan to achieve your health goals.  We will examine past treatments, lab work, and specialized testing.  We will create an individualized plan to enable you to take control of your health at your own pace.  Through education, food choices, supplements, and lifestyle changes you will learn about how your specific body works and take a serie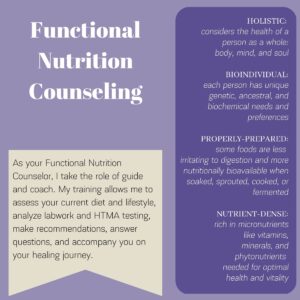 s of small steps that result in big changes.
How does it work? 
First, there is an intake process involving some paperwork documenting your health (current and past) and your goals.  Depending on your needs, we can have a simple conversation about your current health, goals, and my recommendations for you to follow on your own, or we can have a detailed discussion involving detailed history and past treatments, lab work, etc., followed by a second session where we create an action plan and set up ongoing support. Your plan will focus on incorporating whole, real foods and gut health, and always taking into consideration your lifestyle outside of the kitchen.
What can Functional Nutrition Counseling do for me? 
Functional nutrition counseling can teach you how to make small changes and get big results for  symptoms such as gastrointestinal distress, skin issues, brain fog, energy levels, and pain.  Learning how your body and food interact and becoming more aware of the signals your body is sending you allows you to become your own healthcare advocate and take control of your wellness journey.
Have more questions?  Let's chat.  Click here to schedule a free discovery call.